| | |
| --- | --- |
| | Copán |
Home : Honduras : One Article
---
Copán is the site of excellent Mayan ruins in Honduras, near the Guatemalan border. If you're in Central America and you only have time to visit one Mayan site, you should visit Tikal, not Copán. But if you have time to visit two sites, don't miss Copán because it has very well-preserved stone carvings, archaelogical tunnels open to the public, and the adjacent town is quite lovely and comfortable.

The Ruins





The Tunnels

One of the things that makes Copán unusual is that they have two archaelogical tunnels open to the public, the Rosalina Tunnel and the Jaguar Tunnel. Mayan rulers tended to build new temples on top of the old temples, and remnants of these old temples can be seen within the tunnels.









Macaws
These beautiful parrots are bred at the entrance to the Copán site. Careful, they bite hard!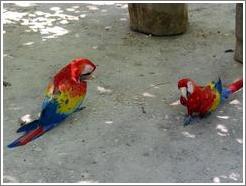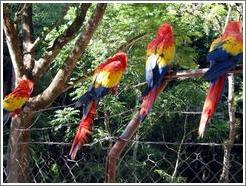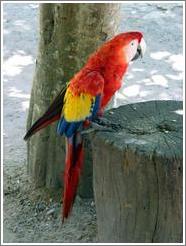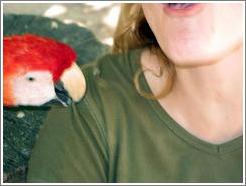 Las Sepulturas
Las Sepulturas is another archaelogical site, less than 2 km from the main Copán site. This is where the Copán aristocracy lived.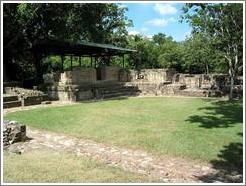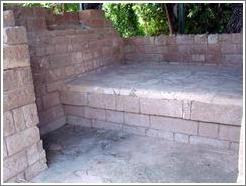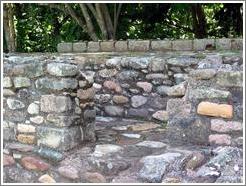 Sculpture Museum
At the Copán site is a wonderful, 2-story Sculpture Museum. The centerpiece is a colorful, full-scale model of the Rosalina Temple, a beautiful temple which unfortunately had another temple built on top of it. The museum also contains much of the original stonework from the site.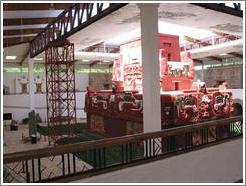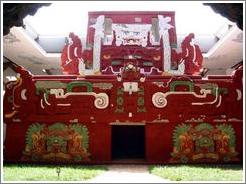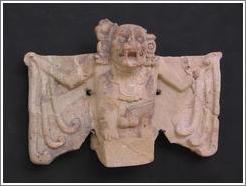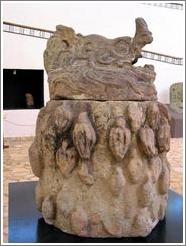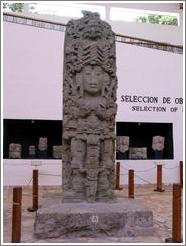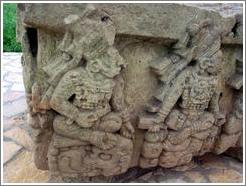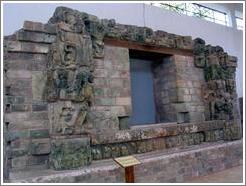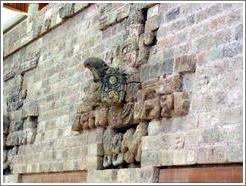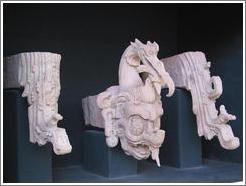 Los Sapos
About an hour's walk uphill from Copán is Los Sapos ("The Toads"), the site of ancient carved rocks in, of course, the shape of toads. This is where women went to give birth. The views along the way are as nice as the Sapos themselves.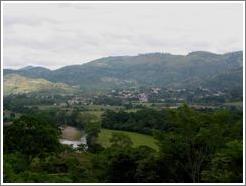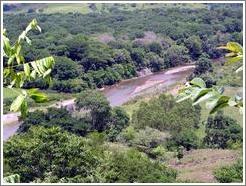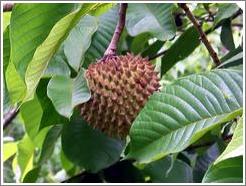 The Town
The town of Copán (full name Copán Ruinas) is about a kilometer from the ruins. The ruins and the town are connected by a nice, shaded stone path. The town is quite small, but it's beautiful, the people are friendly, and it has plenty of hotels and good restaurants.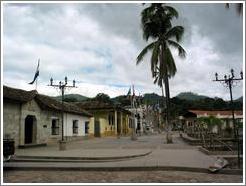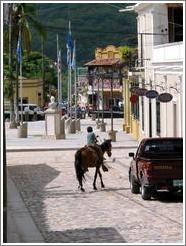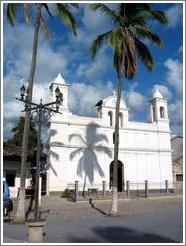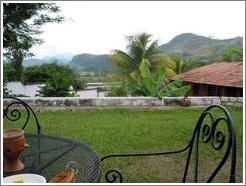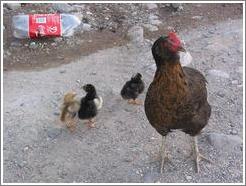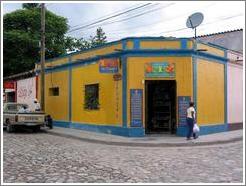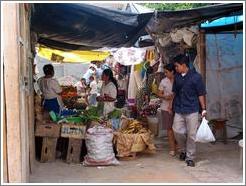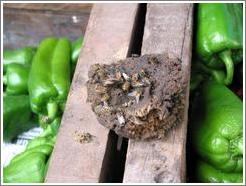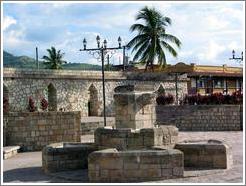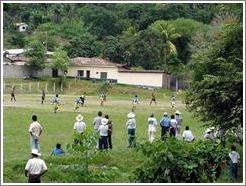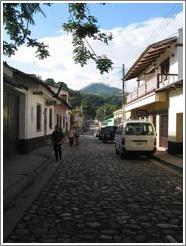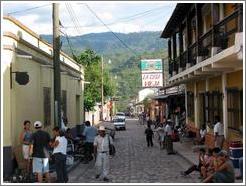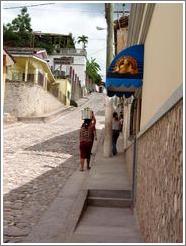 Fauna
Copán is mostly surrounded by farmland, so the most common animal to see is the very cute Central American cow (their ears stick straight out!). There are also many butterflies and a few interesting types of insects like cigar-sized caterpilars.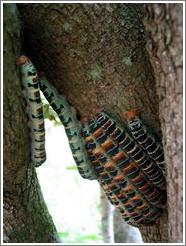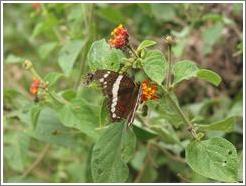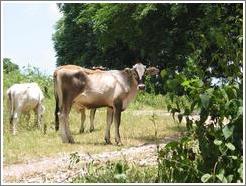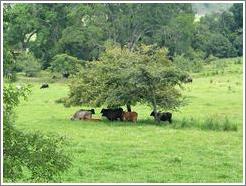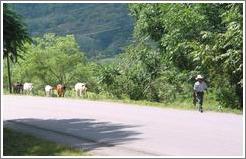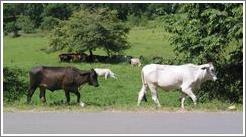 ---
Eve Andersson (eve@eveandersson.com)
---
Comments
breath taking

I've reviewed all your pictures of Guatemala and Honduras. I must say they're all extremely amaizing. Some of them reminded me of when I visited three years ago and it brings me good memories. I'm happy that you are able to share your experience with the world and that we are lucky to see a part of our world through such beautiful pictures. Thank you. Jannet

-- jannet flores
Thank you!

I am living in Copan and I have not seen such beutiful pictures of this great place. You are blessed!

-- Franqui Linarez
copan

I have just returned from visiting Honduras with 20 students from Mercyhurst College in Erie, PA and will contact my friends in Honduras soon. We started our trip in Copan and left our hearts there as we traveled to Tela and finally to Tegas. The warmth of the people and beauty of Copan and mystery of the ruins were unmatched thoughout our journey. We gave concerts at del Campo, the National School of Music and at the National Theater, but singing for Flavia at Hacienda San Lucas was a moment to treasure. I heartily encourage you to visit Copan, stay with Flavia or at the Yaragua Hotel in town. We ate at Tunkel and Tipicos and both restaurants were excellent!I will return and my choir will sponsor one child to attend the bi-lingual school for a year.....maybe you might wish to join us! Till we meet again....Becky Ryan

-- rebecca ryan
Gracias

Gracias, Eve por mostrarme imagene (fotografias) de mi pueblo querido.

Soy un joven copaneco, trabajando como editor (film) en Los Estudios Churubusco (Mexico) y para mi encontrar tu pagina web con fotos de Copan es marabilloso porque pocas personas muestran imagenes del pueblo.

Gracias y Felicidades

-- Gustavo Madrid
Beautiful pictures

Hi:

I'm from the city of San Pedro Sula, Honduras, but I live in Ohio I was very proud to see such a wonderful pictures of my dear country. We have so much to offer. Your pictures are amazing, they just represent the beauty and the history of our country..well done.

Muchisimas Gracias

Marbella

-- Marbella Caceres
Copan

Es un tesoro del mundo , todas las fotos son bellas , me siento orgullosa de esta tierra hondure?a, gracias por darnos otra vision que muchos aun no conocen por su condicion economica.

-- Olivia Dominguez
memories

It is more than fifteen years since I visited Copan, probably my favourite Mayan site. This was before the tunnels were fully open. The great photos remind me of a superb site which I would love to re-visit.

thank you

-- David Taylor
The Beautiful Copan!

Hi Eve!

I just signed up to thank you for sharing these beautiful pictures of Copan in my beautiful country of Honduras, although, I live in Arizona, USA, I hope someday I can go visit Copan and experience the history with my own eyes. Your pictures are beautiful and its somewhat "magical" I should say, it sure put a smile on my face just to see all that beauty. Like the rest of the users in here, I thank you as well for sharing these pictures!, stay cool! and God bless you!!! good luck with all the adventures you have planned in your future!.

-- Carlos Baquedano
great make more

gracias yo amo a estas fotos yo soy de honduras la lima cortes

hagan mas fotos de todo honduras porfavor

-- ingrid flores
Nuestras Maravillosas Ruinas Mayas

Hola.... Solo quiero decirles que visiten nuestras Ruinas Mayas, en Copan Ruinas.. es algo excepcional... si algun dia tiene la oportunidad de venir a centro america visite Honduras, sus playas y sus lugares culturales... Belkys Hernandez

-- Belkys Hernandez
COPAN RUINS

Hi, Eve, I am from Honduras and live in Tegucigalpa, the capital. I visited Copan ruins for the first time seven months ago with all my family. It was an amazing experience. The place is very nice and peaceful. I recommend all Honduras to visit this interesting place and thank you for publishing such beautiful photos

-- Miriam Zavala
Never been there

My friend & I are planning to visit Copan in August, and this is a very nice introduction to what we may find there. Thanks for putting this site together and I look forward to seeing it all. MLE

-- Emilie Daniel
envious

Have been doing extstensive reading on the Ancient Maya, and have visited a few sights, but never Copan. Hope to get there someday. The pictures posted are really amazing. Would recommend the book A Forest of Kings, which really brings several of these ancient civilizations to life as wells as their rulers. I can't say enough about the detailed skill level that these ancient scribes/artisans exhibited. Thanks again for posting your pictures. Rick F

-- rick faich
yes Copan is very very fantastic place, and i feel ORGULLOSAMENTE CATRACHA!!!
Image: untitled.bmp

-- Evelin Days Flowers
Add a comment