| | |
| --- | --- |
| | Tikal |



Home : Guatemala : One Article
---

Tikal is an enchanting place, with magnificent temples, the music of birds punctuated with the howls of monkeys, and the fresh smell of rainforest permeating each breath of air you take. Once the largest Mayan city in the world, Tikal is now the site of ruined temples, pyramids, stelae, and other stone structures. 30% of the ruins have been uncovered and partially or completely restored. The remaining 70% lie under layers of dirt and shrubs and trees, where they will be preseved well for the centuries to come; the presence of these hidden ruins is betrayed by the geometrically perfect shapes of Tikal's many hills.

Ruins








Covered Ruins
You can spot the ruins that are still covered by the shapes of the hills, the stelae and sacrificial altars strewn about nearby, and the fact that the pyramids often come in pairs. It is exciting to walk in the less-traveled parts of Tikal and see what the early explorers must have seen. Temple V is current undergoing restoration.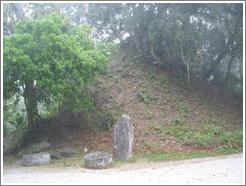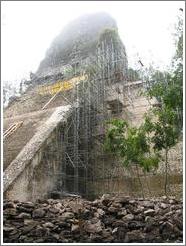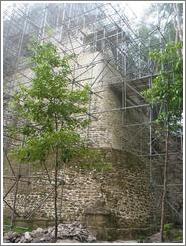 Fauna
The raccoon-like pizote (or coatamundi) is probably the animal most beloved by Tikal's visitors, followed closely by the extraordinarily colorful wild turkey. You'll also find howler monkeys, spider monkeys, and a wide variety of birds. There have been jaguar sightings, but they're very rare.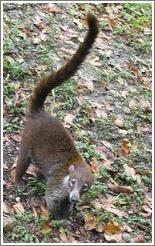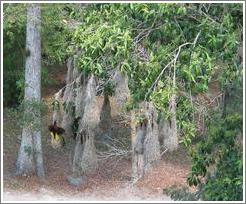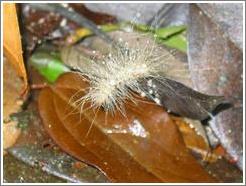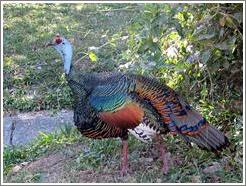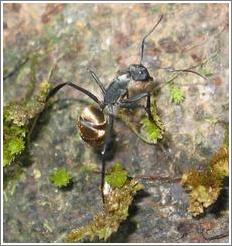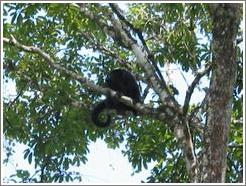 Flora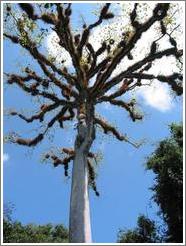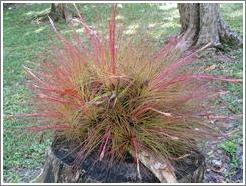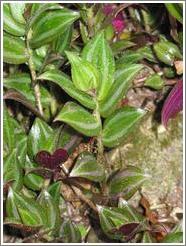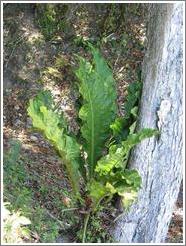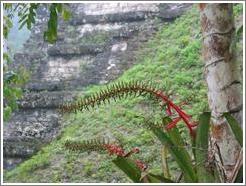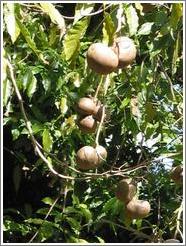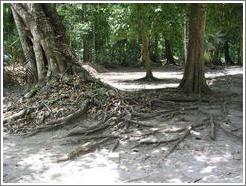 Museums
The two museums near Tikal's entrance will show you pottery, jewelry, and other artifacts taken from the site, well-preserved stelae and sacrificial altars, and photos of the temples before restoration began.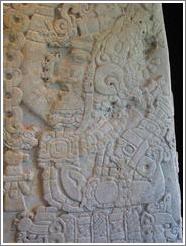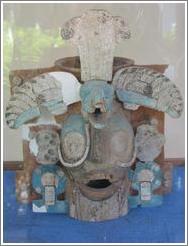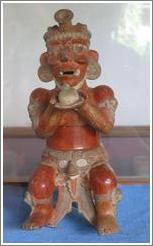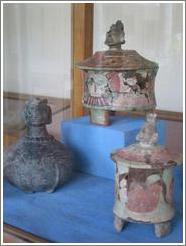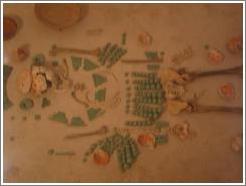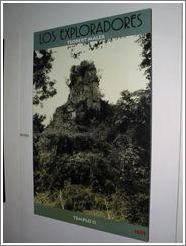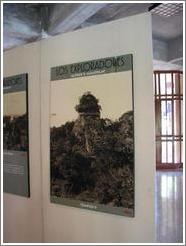 ---
Eve Andersson (eve@eveandersson.com)
---
Comments
guatemala


I will recomend you take another picture or give it more exposure to temple of the jaguar, we can't see details of the stairs and the top.congratulatios for you pictures are nice !!

-- jorge ortega
Wow,

Excellent pictures! I'm thinking about going to Guatemala and wanted an idea of what i'd see. I think these pictures capture the essence of a beautiful country.

-- John Wolf
NICE!!!

I'm a Proud Guatemalan, allways have.... But when I see pictures like this, I feel pride for the entire human race. The fact that this people built all this without heavy equipment or tools, it's just amazing. Primitive mesoamerican natives or skilled builders wisely led by smart engineers????? You tell me..... (They were also great in Medicine, Astronomy, Math and a lot more)

-- Luis Gonzalez
Thank you so much for your fabulous web site. Here is a picture of me in Tikal. I have others but your pictures completely capture the amazing essence. I submit this pic because, if any of your visitors are Star Wars fans, they may remeber this view from the movie...

BB

We love Guatemala!
Image: scene in star wars 2.jpg

-- B Brown
What an appetizer!

Thank you for posting the magnificent photos. We've just rescheduled our vacation today and will be leaving tomorrow night for Tikal. Your photos are a delicious appetizer that has whetted my appetite and made certain that I will clear all my memory sticks tonight so that I can fill them with my own photos.

Hurricanes Katrina and Rita have knocked out both of the ports we were going to take a cruise from and, since I've always wanted to experience the Mayan ruins, I searched out options last night and we confirmed reservations today.

Thanks for the visual introduction.

Albert Shields.

-- Albert Shields
Beautiful Place

I`m a praud Born guatemalean, I was born in a pueblo call San Juan Sacaptepequez About 15 minutes from the city, if you guys love the scene there in tikal you guys soure go to the mayan ruins of mixco viejo about 1 hr away fro the city it is a beautifl place to and the people are always ready to help you, so have a great trip. y que disfruten de sus vacaciones.

-- Erick Ortiz
TIKAL

I THINK YOU DID A WONDERFUL JOB, THOSE PICTURES ARE BEAUTIFUL,

PEOPLE CAN SEE THROUGH THAT HOW BEAUTIFUL GUATEMALA IS, I AM SO

PROUD TO BE GUATEMALAN.

THANK YOU

-- CLAUDIA MURGA
......."WOW"

lol, hi everyone i hope you enjoy seing why my country is so special and why its one the most important countries in the world.." in terms of ancient history and living culture! ..and archeological wonders! well im a 22 guatemalan residing in America! and im proud of the people who made this website possible...to all of them...THANK YOU! for sharing this to the world.

-- Carlos Perez
My Family Lives In Guatemala City And I travel there almost once every month.I highly suggest anyone and everyone to Visit Guatemala(Antigua.Coban.Amatitlan.Puerto Barrios,Xuetulul,Mazatetlan,Tikal),and just about every place there is an unforgetable seen.Beautiful ruins that only you have to see for yourself because neither I could explain the definition of the way I feel each and every time I go and travel to places that are far away from what we call home.Mountains that no where else can overcome the heights and deep of mistery Guatemala contains.If anything I desire to acheive the most it would be to see most of what i can of The Mayan Ruins.Exceptionally perfect of What i think is more than incredible. Pictures of My traveling Adventures In guatemala Is upon Reguest please Email me at valsterazi01@yahoo.com _________ Houston,Texas ...Valerie Aziz

-- Valerie Aziz
mother/daughter

June of 2006 my daughter Sarah and I took a long awaited trip across the Yucatan, visiting Mayan ruins. The last time I had traveled this route was 28 years ago, when I was pregnant with her. She has grown into a wonderful woman, with a compassion for the Mayan people and a gift for photographing landscapes. We visited Izamal, Chitchen,Tulum,Chaa Creek for the medicine trail,and Tikal.Tikal was our favorite. A misty rain fell and the jungle filled with clouds as we floated above it on a temple top.A guard personally escorted us around and with great pride for this sacred place shared its history. The spark of respect and sharing -in Spanish -between my daughter and the guide was a wonderful thing to behold. That night,we slept in hammocks at the Jaguar Inn, under the same mosquito netting my husband and I had used 28 years earlier.Towards the end of our trip at Palenque our camera was picked up,reportedly by one of the guards, but we were unable to get it back, though much dialogue went on that we were unable to follow. We have wonderful memories in our hearts,but miss having pictures of the trip. I have some hope the camera will be sold to someone that will down load the pictures and wonder who we are. No doubt the photos are exceptional. I would love to purchase photos of this area to put together a memoir. Are there sites for this? Linda

-- Linda Bush
Excellent

My family is also half Guatemalan. I have been there so many times and i have been to tikal 2 times. This pictures really capture most of its beauty and you really described it well.

Jasmine Gomez

-- Jasmine Gomez
Gracias

hola les estoy dando muchas gracias por representar GuATEMALA and i'm from los angeles but my parents are from morales izabal Guatemala yo quiero ver fotos de ayi gracias bye

-- Eduardo Quinonez
I remember

I was in Tikal in 1973. I was good to stumble across your fine coverage of the place. I always wanted to go again but other trips made more sense. At that time the government was just taking posession and there was a nightly curfew except on the full moon night. My friend and I were lucky enough to be there for one of those night and spent most of the night atop temple #1 watching the animals roam the plaza. We had to scale the fence to get out since the guard had left long before us and locked the gate Great to be reminded. Thanks

-- jim lapp
BUEN TRABAJO

THANK YOU VERY MUCH!!!!!!!!! I WAS BORN IN GUATEMALA, BUT THEN I MOVED TO THE USA WHEN I WAS 11 AM NOW 23, RECENTLY AFTER GRADUATING FROM SCHOOL I DECIDED TO TAKE A VERY LONG VACATION, I WENT AND VISIT MY GRANDPARENTS IN MORALES IZABAL FOR 5 MONTHS(MARCH-AUGUST), I ENJOYED EVERY SINGLE MINUTE I WAS WITH THEM. DURING THE 5 MONTHS I WAS THERE I GOT TO VISIT MANY DIFFERENT PLACES SUCH AS PETEN, TIKAL, ANTIGUA, RIO DULCE, PUERTO BARRIOS, PUNTA DE PALMA AND OTHER BEAUTIFUL PLACES. GUATEMALA ES UNOS DE LOS PAISES MAS LINDO DEL MUNDO OJOLA Q MAS PERSONAS PUEDAN VISITAR NUESTRO LINDO Y HERMOSO PAIS, GRACIAS ALAS PERSONAS QUE HAN PUESTO SUS LINDOS COMENTARIOS EN ESTA PAGINA.

-- I MORALES
Thank you for sharing your beautiful photos

Thank you for sharing your beautiful photos. At first I wasn't sure if I wanted to visit Guatemala. Now, I am certain I will be going. I didn't think Tikal would be of interest, however I think it is a must do! You take wonderful photos. Excellent work! Sunny Florida

-- Jill Florida
Gracias

Thank you, I was in Guatemala last cristmas., after twenty years, I was very excited, to go back home, my husband and my boys, love it, we went to panajachel, Antigua, xela, y champerico, we dind have time to go to Tikal, we hoppe we will next time, but with this pictuers so beatuful I think I dont need to go enimore, beatufell job!!!. thx gracias ....

Yolanda Harris

-- yolanda Harris
Guatemala is not safe. I spent three months there. My daughters father is from Tikal. He is not Mayan. His family is spaniard. A bus tried to run me over with my daughter. The police stop you and steal from you. I read that a camera was taken from one woman. they will steal what ever you have. This country is the biggest thiefs. We sent stuff to the family in Guatemala City and it was stolen from the mail. Before it ever reached their home. If the people who read the information on tikal think it is the best place why are they living in the U.S.? Jeanette Cobb

-- jeanette cobb
WOW

I LOVE THIS PICTURES I WANT TO THANKYOU FOR THE GREAT JOB,I'M FROM GUATEMALA CITY,MY FAMILY IS FROM DIFFERENT PARTS OF THAT BEUTIFULL COUNTRY LIKE,HUEHUETENANGO,MAZATENANGO AND RETAHULEU, I'M SO PROUD OF MY COUNTRY AND A FEW WORDS,I'M PROUD OF BE CHAPINA, THANKYOU AGAIN AND KEEP THIS WONDERFULL JOB. CLAUDIA GRANADOS

-- claudia granados
Not to sound Cliche!.....Thank you for your vision and your insight of my country, wonderful people like you give a sense to life in it's simplicity and the grander of it, if you pay attention to what is around you. I have recently decided to move and make my life in Guatemala, for reasons more than living a life of adventure and self indulgence... The country as it is beautiful still remains fragile to the influences of the increase in population and the industrial world. My goal is simple as your's is to show people the simple things that we miss but this can only be done with knowledge. My best to you and all who venture into learning not only our culture but the rest of cultures in our world.

Gracias

JC
Image: IMG00080.jpg

-- Juan Carlos Murga
spellbinding Maya

Dear Ms. Andersson: What beatiful pictures, they speak directly to a favorite subject! I have been visiting Guatemala and the Yucatan Peninsula in search of the early Maya and was bound to Veracruz to see El Tajin (will wait for unrestricted travel). Lately have been reading research by renowned archaeologists on the Maya collapse, culture, trade, environmental etc. it's fascinating! also visit and photograph museum artifacts (NY Metropolitan and Natural History among others). From your splendid photos I gather more than a few days are the best option - here's hoping access to the sites is still unlimited. I've been planning a sabbatical to Guatemala, this time to the area of the Passion River (Chama, Coban) then trek to Tikal to experience how trade routes worked. Fyi the fabulous Pennsylvania Museum of Archeology/Anthropology just opened an exhibit of Maya polychrome vases through the fall. Again, thank you for sharing such spellbinding images.

-- Carol Etherton
Pictures

Wow! What a wonderful country. I am proud to be from Guatemala and hope to one day visit El Tikal! Thank you for reminding me how great my country is.

-- Dalila Sanchez-Munoz
Fund Raising

Thank you for the beautiful photos of a country that I have visited several times and ADORE! I have taken a number of your photos for fund raising presentations to Rotary etc to raise money for the damage following the recent volcanic eruption. When I had lived in Guatemala city, my rented accomodation was a few metres from the sink hole that was suddenly created. How tragic that such a beautiful country with such charming people should have such a brutal recent past, and still have to cope with tragedies such as the recent one.

-- Derek Evans
Thank You

I really appreciate that you are showing these photos and telling people about this wonderful place...i am from guatemala and instead of showing people the bad in this place you are sharing the good..people shouldnt concentrate on te bad of guatemala, but the good thats in it too! like the wonderful waters! and the ruins! im proud to be a chapina! vivan los guatemaltecos! gracias, stephanie chen

-- Stephanie Chen
Add a comment