| | |
| --- | --- |
| | Antigua, Guatemala |



Home : Guatemala : One Article
---
Antigua is a charming city in the high plains of Guatemala, about 45 minutes from the country's capital, Guatemala City. Antigua is probably best known for three things: the beautiful Spanish-style architecture and cobblestone streets built in the 16th century and preserved by law to this day, the many ruined churches and monastaries, casualties of the 1773 earthquake, and the majestic volcanoes looming on all sides. Antigua is popular with tourists at all times of year and is full of great restaurants, hotels built in the same Spanish style with heavenly, flowered courtyards, and dozens of Spanish-language schools.

The City




Churches and Ruins








Hotel Casa Santo Domingo
The Hotel Casa Santo Domingo is considered the best hotel in Central America. The rooms are modern and attractive, the swimming pool is perfect, the parrots in the courtyards are loveable, and the restaurant is world-class; yet none of these features even compare to the hotel's main attraction. The owners of Hotel Casa Santo Domingo have been, for many years, carefully uncovering and restoring magnificent ruins from Antigua's colonial time. The hotel, which funds this restoration work, has been carefully built around the ruins in order to preserve them and show them in their original form.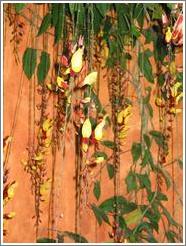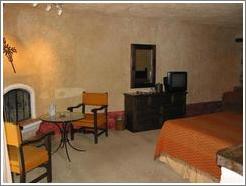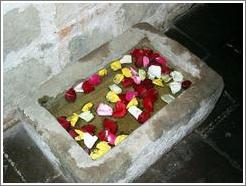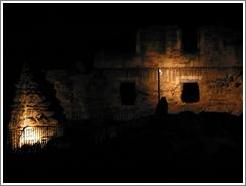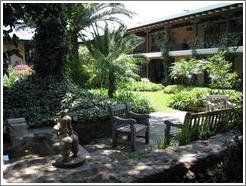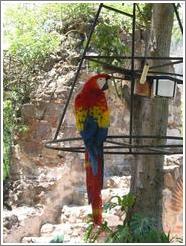 Casa Popenoe
Casa Popenoe is an early 17th-century private home. It has been restored to its original state and now functions as a museum, although part of it is still inhabited by the Popenoe family's descendents.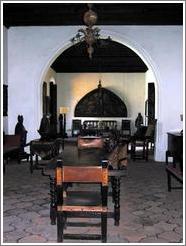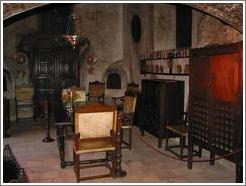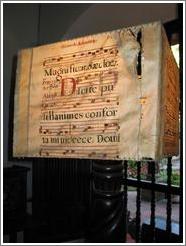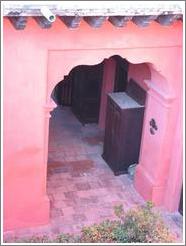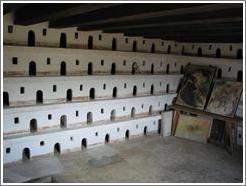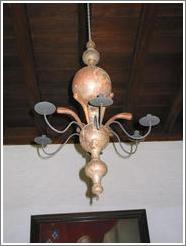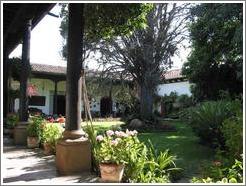 ---
Eve Andersson (eve@eveandersson.com)
---
Comments
Convento Santa Catalina Martir

Es otra de las grandes construcciones religiosas de la ciudad, levantado como un claustro para monjas y construido durante los siglos XVI y XVII. Es notable la belleza del Arco de Santa Catalina y el Claustro. Hoy es un hotel de gran categoria.

-- Alesandro Mazate
Nice pics

These pictures that you took of Antigua are really nice. I would say one of the nicest pictures I've seen online. My family lives in Antigua, and I study in New York. I can't wait to go back and enjoy Antigua!

-- Juan Pablo Monzon
Antigua

Miss Andersson: You don't know how I have enjoyed the pictures that I saw about Antigua. They are gorgeous!!!!! I live in Canada, but I'm originally from Guatemala and as soon as I stared looking at them I remembered all the times that I was there. Thanks for sharing, Liza

-- Liza Maria Chacon
wonderful

I visited antigua in January 2005 for the first time and fell in love with this city and country. Your pictures are great and I hope you expand to the surrounding countryside as well. I wish I could live there but will hope to return for easter week instead.

-- kate taylor
We really felt at home in Antigua. The food was fantastic, the people were beautiful and the scenery majestic. Here is a picture of me and the Boyfriend in central park...

We look hot(temperature wise) but were not. The temp in Antigua is fantastic.
Image: central park fountain.jpg

-- B Brown
I live here...!

I found your webpage searching for some pictures of Antigua and I have to confess that I found the best and I felt pround of the city that I live in!! And the reality doesn't separete much from what I saw in your pictures. Congratulations...! You motivate me to walk around and take some of my own. Paula Tobias

-- Paula Tobias

I visit Antigua for a month, I really apreciate my teachers MUCHA PACIENCIA, I recommend APPE school, it's a really interesting language with good teachers and to stay at "PALACIO DE DO?A BEATRIZ", it's really safe, quiet (no buses and bells) & a charming place. The staff so friendly, also I can't forget I had a spectacular view from my room, the pool was wonderful. Dining at Antigua it's perfet ! Woww Chefs ! I want to go back once a year, it's the perfect city for rest and shopping.
Antigua

I lived in Antigua for 3 years and currently live in las vegas, I just want to say that those three years were probably the most relaxing I ever had now everytime i feel stressed or want to get away i go on line and try to find interesting pictures of Antigua. I love this this city i would do anything to move back.

-- karin zamora
What great memories.

Thank you for presenting these fantastic pictures and editorial. We travelled to Guatemala in 2000 and 2002. Both of my sons were born in Guatemala. I love sharing this with them and telling them stories of our trip to bring them home!

All of your pictures brought back so many wonderful memories of the wonderful people we met and beautiful places we saw.

Thank you.

-- Amy Romines
Awesome

My wife & I were there for 12 days - It's an awesome place to visit...Had great weather - people are fiendly..the food it's out of this world..Most of all the Country has kept their culture...the restrooms are Clean Clean nothing compare to Mexico...the city is quiet and you'll find alot of water fountains everywhere...Awesome Place..

-- Tano Tijerina
Extraordinary

Incredible beauty, I work for an international foundation that helps countries provide safe blood supplies for children. Our group is currently working with the Guatemalan Ministry of Health throughout the country. My work with the Children's World Blood Bank takes me all over the world and I have yet to find a place as peaceful as Antigua. I was working in Guatemala City this past June, as part of World Blood Donor Day, where I was able to get out of the city for a day. A few representatives took me to Antigua for the afternoon, so I could visit some of the spectacular sights. My visit to Antigua was an experience I won't soon forget. We were able to enjoy a late lunch at La Fonda de la Calle Real, which was outstanding. I will return to Guatemala at the beginning of December 2005 and plan on taking delegates from the Children's World Boold Bank back to Antigua. Anyone travelling to Guatemala should make time for the extraordinary experiences that Antigua has to offer.

Best of Luck, Sean Flynn

-- Sean Flynn
Photos from Antigua this past June (2005)
Image: guatemala trip 06 11 05 020.jpg

-- Sean Flynn
luv it!

Having lived in Antigua for five years and hoping to return soon, I THOROUGHLY ENJOYED YOUR PHOTOS!!! Thanks for doing such a superb job!!! Altho, I must admit such great work makes me even MORE lonesome and anxious to return!

-- Mary Johnston
Just Came Back To Canada

Hello, I'm a 21 year old female from Ontario Canada. I was just in Guatemala for two weeks. I volunteered there as a Dental Assistant for two weeks. We stayed in Monterrico during each week and travelled to close by villages to provide free dental services everyday. On the weekends we were in Antigua. I love Guatemala so much and I'm very interested in moving there. I was wondering if anybody knows if it would be hard to find a job since I only speak english currently. I would also need to find a very cheap apartment. If anybody can help me with this information I would really appreciate it.

Thanks, Sarah

-- Sarah Bradley
New Discovery

I have worked in the Airline Industry for approximately 30 years and have traveled all over the world and just recently visited Guatemala city,Antigua and Porte San Jose. I was amazed at the topography of the country,the people,and its rich culture. The entire country is virtually a "Photographers Paradise". Myself and a few colleagues originally traveled to Guatemala to fish, "Which was Excellent" and experienced many more facets the country has to offer. I plan to return soon with my family to share this experience.

-- Terry Collins
Mi Pais Preciosa

Guatemala is beautiful indeed. i just isited in January of 2005. I have no regrets. My parents are originally from Guatemala. I strongly recomend you going there, there you will expierience an incredible feeling. someday i hope to go back and visit the Pais De La Eterna Primavera "Country of eternal Spring". I also hope that I vistit Antigua. It looks beautiful. Great pictures.

-- Daisy Gonzalez
I first visited Antigua, in 2003, since I have returned 13 times. I believe it is paradise. I love it a lot. I now plan to retire there in 6 yrs. Everything is great, the people are warm and wonderful. A really great place! Tom Holley. Ohio, USA
Image: valcano.JPG

-- Tom Holley
Antigua

Roligt att se s? fina bilder fr?n Antigua. Har besokt stallet tv? g?nger forra ?ret. Vid andra vistelsen under 4 veckors tid och alskar Antigua. Taina Laurino

-- Taina Laurino
antigua the magnificent

It's a pleasure to see people adore a country so small and so intense in beauty. My country which I so much love is filled with admiration from all over the world. Some say, "beauty lies in the eye of the boholder," but when it comes to guatemala, it simply is beautiful no matter who you are. Keep taking pictures, seeking new ways of informing all the world not just of guatemala, but also of the entire world. Everywhere one goes, there is beauty to be found and talked about.

-- marvin Alexander tobias Morales
A town that makes you feel grounded to nature

Everytime I walk in Antigua Guatemala I feel like I'm part of nature myself. It is a wonderful feeling the peaceful experience. To explain myself better, it is different when you are flying 80 miles an hour in a Freeway or any other road in United States of even any other areas in Guatemala. Walk in Antigua and feel the difference.....I feel grounded...part of nature...I feel like I'm just another piece of the puzzle that found its pefect place...in Antigua. I'm looking forward to my retirement in Antigua....

-- Carlota E. Redondo
Wonderful Memories!

I went with a group to Guatemala City and Antigua in July 2005. In Antigua we stayed at that beautiful Hotel Santo Domingo. Some of us will return on June 23 for 8 days, and I can hardly wait!

Thank you for this beautiful web site!

-- Martha Thrasher
My daughter is adopting a baby from Guatemala. My husband and I will go with her to Guatemala City to receive the baby the first of next year. While we are in Guatemala, we plan to visit Antigua. It looks like a beautiful place, with all the old churches, squares and ruins. I enjoyed looking at these wonderful pictures very much. Elizabeth Post Winston-Salem, North Carolina

-- Elizabeth Post
Beautiful Antigua

Loved your pictures... Even set one up as my background. I can hardly wait to go back; hopefuly these next few weeks will pass by quickly so i can go walk around the beautiful city of Antigua...

-- isabel hernandez
hi, my name is beverly I am thinking about going to guatemala some day i would like to go to see the country and also the love of my life is over there. and has been for 4 years know. I miss him so much i live in the us and can not understand why people are not free to go were thay want in the world.but that is life it is it is not fear. just like it is not fear that the man i love with all my heart has been taking from me.well sorry im just going on and on about my life that i know hate. i was wondering if anyone out there has some potos of guatemala. and if you could shere them so myself and other people would be able to see them. thank you. looking for my lost love in guatemala.
Image: My Brothers.jpg

-- beverly harding
Guatemala Helps

I live in guatemala anda let me tell U that is a beatifull place, Sara from ontario canada, is easy to find a job in guatemala for a person how speak english and whith the apartamente that depends in what zono do u whana live, but it can be very cheap.

-- Guillermo Najera
Back in time

I lived in Antigua in 1992 for 8 months. Looking at your photos takes me back in time. I recognize people, places, even the house I lived in. Thank you very much!! Ted

-- Ted Loo

My wife and I just came back from Guatemala (January 2007). In Antigua we stayed at Posada El Angel. Wonderful place. This is the same place where President Clinton stayed in his visit to Guatemala.

-- Luis Samayoa
I need to go back

I'm feeling home sick today, I decided to go into the internet and look at some pictures of Antigua. My mother's side of the family all leave in Antigua, my parents moved back to Anitgua when I was 21, which its been a good 16 years already. Your pictures reminded me when I was a child and going to school at Santa Familia de Mujeres and La Salle. You should take pictures of their schools, or just visit Antigua for September 15 their independence day. All the schools get together for independence day and they'll march all over Antigua until they get to the football stadium. Thank you for taking these pictures, just looking at them bring tears to my eyes. I guess its time to visit my parents once again.

Born in Los Angeles, half Guatemalteca half Peruana, raised in Antigua Guatemala. Now married and leaving in La Habra California.

Will probably go back for X-Mas, that's fun too.

Thank you,

Nancy Huezo

-- Nancy Huezo
My Spanish experience

Thanks for this space, a month ago I was in Antigua G. with my family and we already had an unforgettable experience with our Spanish school, Espa?ol Ya!! www.espanolya.com is very organized and professional their instructors taught much to us of grammar and Guatemala,now we are very happy for returning to house with vocabulary and expressions for use with our friends and my children in the school, the director Evelyn Herrera is very professional and friendly she organized everything for us and thus we had a special trip, also the comfort and affection of the family Edgar and Marisol Roman is very friendly and they gave a great welcome us, we visited many places of Guatemala and Antigua, like Lake Atitlan, Chichicastenango,Rio Dulce, Tikal and enjoyed a lot Antigua is a very pleasant place to rest and to learn, we visited the hotel Casa Santo Domingo, but we want to return the next year to study more and to visit other places, as well as we enjoyed the volcano pacaya, that so unforgettable experience, thanks to all the people who helped us. If you want take a vacation, Go to Antigua Guatemala!!!

-- William Zimmerman
Antigua

Just got back from a 2 week stay in Guatemala, drove aprox. 3000 kilometers within the country from the city to Morales,Tikal,Flores,Coban,Salama then Quezaltenango,San Marcos, San Pedro Puerto Chiapas in Mexico and a few other places but Antigua is one of a kind, my wife had spent time there and had told me about it but there is no way to really describe the feeling that one gets by walking the streets and going back in time. We liked it so much we are in the process of purchasing a place there, which I might consider renting to anyone who is interested for their stay in Antigua I hope to be able to go often and enjoy as much as possible. Thank you for your pictures

-- angel arenas
trip to Guatemala for adoption

My husband and I just returned from Guatemala City with our daughter who adopted a beautiful 11 month old baby girl. While there we took a day trip to Antigua, and it a wonderful old city. We ate at the Hotel Santa Domingo, and it is beautiful there, with excellent food. I would recommend that hotel to anyone. It was so neat walking around the old city with flowers blooming everywhere. Such a nice experience.Even the baby loved being out seeing all the sights. School children in their uniforms were taking day trips there, and were all in the beautiful park. I think Antigua is a well kept secret, that maybe people that travel have missed. It is worth the trip.

Elizabeth Post

-- Elizabeth Post
Just got back from another incredible trip down to Antigua for Semana Santas. Our son lives in Antigua and owns what we think is an outstanding restaurant named Sangre, located between the Arch and La Merced. This was our first opportunity to witness the spectacle of the alfombras, and the processiones. It was breathtaking. We have now been down three times and each time we go we find it harder to leave. For such a small town with such a small population it amazes us how much there is to see and do. Here are a couple of my favorite pictures from this trip.
Image: IMG_3784.JPG

-- bob Russell Russell
Beautiful!

Thank you for sharing your beautiful portfolio of Antigua, Guatemala. My daughter just arrived tonight in Antigua for the first time. I wanted to have a look at what she will be experiencing. It's beautiful!

-- alicia cantu
Fabulous Pictures!

Wonderful pictures! My daughter is visiting Guatemala right now and I went to the internet to find pictures of some of the places that she is visiting. I was so glad to find your pictures of Antigua and also Monterrico. This gives me a good idea of some of the sights that she is seeing.

-- Alison Blazer
Antiqua Housing

Hello, thanks for sharing your pictures! My husband and I want to live in Antiqua for 6 months...starting Sept 15th or so... We want to rent a small house or an apartment convenient to everything... We have no pets, non smokers and are very clean and responsible... Can you recommend a contact for us? Someone who knows of something or does this rental/agent for a living? We are flexible and can arrive in October '07 as well...

Thank you in advance for any help you can send to me...

Mrs. F. Prewitt

My husband wants to study Spanish--I'm into Art, Cooking Classes or Craft Classes...

Please email me with any suggestions: fprewitt@pacunion.com

-- fran prewitt
Job in Guatemala

I came upon this page through a search engine for jobs in Guatemala. I was just wondering if anyone could give me advice on being able to find one. I am from the states and my husband is guatemalan, but due to my government we might not be here much longer, and I will follow my husband back to Guatemala. If anyone has any information on how to and where to find a job for someone with an associate's degree in child development, and limited spanish, I would appreciate any advice. Thank you.

-- Laura Valenzuela
Information

Read several comments from people wanting information on apartments and jobs in Antigua. A good place to look for this information is www.MyAntiguaOnline.com

-- B Duncan
It took me down memory lane (I lived there in the late 70's) I attended Liceo Antigueno scchool. I remembered a lot of the places in the photos.



-- nora dumale
A little bit of magic

I loved Antigua. I was just there in August and will return in January. The smells, the sounds, the cobblestone streets, the guards at every bank and Jade shop - all of it just appealed to me and made me come wonderfully alive. It is a small city of contrasts with a really vibrant pulse. I can't wait to go back...



-- Kathy Bray
Apartments in Antigua

We have lived in Antigua for 52 years and have 3 nice apartments for short or long-term rental on our property. for additional information contact: philippi@camint.org

-- Paul Philippi
Mi Pueblo

I was born in Antigua Guatemala, I moved to the united states ten years ago. Today I was just searching for Antigua just to see what's new and to see some pictures. But when I saw this beutyful pictures and after reading the comments of people, it made me think of Mi Pueblo, walking the streets or just siting in the central park after school, thinking of my school The Liceo Antigue?o, the food, the friends, my family. I hope one day I can move back with my wife and daughters so they can know the feeling of Mi Pueblo.

Thank you for sharing the pictures.

Oscar Castellanos Tuscaloosa Al.

-- Oscar Castellanos

i was actually just going through some pictures,and i just decided to look back at Antigua, and to be honest tears came falling down my cheeks. i was actually born in guatemala in 1988, i havent been there in a couple of years, but i have always thought that there is no other like my Guatemala, but seeing all the pictures,n conments from other people make me realize that it is actually a natural beauty. i thank u for posting this pictures, and i hope more poeple sees ur site n has a reaction quite like the one i had.

ATT. michelle

-- michelle rodas
VOLVERE

Thank you...thank you... for these pictures, I came to USA in 1992 even thoug I have a nice family, a good job I am just wainting for the moment I can move for good to my wordefull country. We went for christmas 2007 my husband felt in love with my country. Now, He is looking for a Network Engeener job, once he finds one we are moving...for good. I am very graet full to America, but there is no place like home.

-- Lisbeth Cordon
QUE DECIR....SIMPLEMENTE FANTASTICAS ESTAS FOTOS , DE VERDAD FELICITACIONES, ESTAS FOTOS HACEN VER LA ANTIGUA GUATEMALA, COMO LO QUE ES , UNA CIUDAD HERMOSA, ALEGRA Y COLORADA Y AL MISMO TIEMPO MUY PACIFICA..!!....YO VIVO AQUI, SOY UN AGENTE DE BIENES RAICES, Y POR ESO CONOSCO MUY BIEN TODA LA ANTIGUA ASI QUE SI NECESITAN RENTAR O COMPRAR ,UNA CASA , APARTAMENTO O SIMPLEMENTE UNA ABITACION PARA PASAR UN POCO DE TIEMPO AQUI, EN ESTA ESPLENDIDA CIUDAD, NO DUDEN EN LLAMARME O MANDARME UN CORREO QUE ME VA A ADAR MUCHO GUSTO CONOCER A ALGUIeN MaS QUE QUIERA VISITAR MI LINDO PAIZ , NO TIENEN QUE PAGAR NADA ..!!!!

MI NOMBRE ES Brenda
mi correo fabyb19@yahoo.it
mi numero (502) 43080428

SALUDOS A TODOS Y HASTA LUEGO !!!
Image: DSC00941.JPG

-- brenda fabiola coda
Breathtaken pictures

Hello, I am Dutch but was born in Antigua and actually I am living in Bulgaria with my husband and son. We visit Guatemala but not that frequent. You can imagine our pleasure when we see your beautiful pictures and praudly show them to our friends. I recognize immediatelly the streets and churches. I attended Colegio La Educacion, INSOL and Liceo Rosales. My best memories in Antigua I shared with my wide family members who I dearly love. Edith De Leon

-- Edith De Leon
Apartments in Antigua Guatemala

We have lived in Antigua for 52 years and have 3 nice apartments for short or long-term rental on our property. For additional information and descriptions, prices and photos of our 3 apartments, go to the following websites:

http://www.esnips.com/web/Apartment1

http://www.esnips.com/web/Apartment2

http://www.esnips.com/web/Apartment3

If you are interested in a particular apartment, let me know your dates and I'll let you know if it will be available. We usually are filled all of the time, since there is a scarcity of good, moderately priced apartments here in Antigua. contact: philippi@camint.org

-- Paul Philippi

-- Paul Philippi
Hi, A group from my church in Greenville, NC just got back from a medical mission ending 7-20-08. We worked mainly with Mayans high up in the mountains near sugar cane fields. Our last day was spent relaxing in Antigua. A friend and I went into that beautiful Catholic church in the picture during Sunday a.m. mass, and when we left, we saw a moonset behind the two mountains nearby. The people in the villages, though relatively poor compared to U.S. standards, seemed much more joyful and content. There was no comparison. My heart will always have a place for the Guatemalans.
Image: IMG_1221.JPG

-- Mike Shugart
how beautiful

What a beautiful pictures, thank you for share this, I was born in Antigua but I moved to NY 18 years ago and now I recently moved to NC, I really missed the beautiful places, peaceful and nature contact. When you look at this pictures you enjoy the beauty of Antigua.

Anabela

-- Anabela Diaz
Peruvian Cuisine

I want to let your members know about a new Peruvian restaurant 'Inca' located on 4ta Avenida Sur #10, Antigua Guatemala. The food is excellent and the prices very reasonable. This restaurant provides de famous 'pollo a la brasa', this is rotisserie chicken cooked with charcoal. They also have a variety of dish with meat and fish. Next time you are in Antigua Guatemala you must try this place.

-- Luis Landa
Wow Im from El Peten Guatemala but I moved to USA 6 years ago I never get to go to Antigua but Im planning to go with my husband next year is amazing city I miss my country so much every is so different and so peaceful maybe one day I can get to move and live over there lets see what God decide!!! BESITOS PARA TODOS LOS QUE APOYAN NUESTRO LINDO PAIS QUE VIVA GUATEMALA!!!!!
Image: DSCN2637.JPG

-- claudia Madrigal
I was born in guatemala,but was adopted and moved to the us when I was 8, I really enjoy seeing the beautiful pictures. It's been 21 years since I left.I don't remember much but what I do I miss very much! thank you so much for sharing.God bless you.

-- eva parker
schools

Hello, I would like to know if anyone knows about a school in Antigua Guatemala for my child. Thank you kindly

-- Gladys irizarri
IM REALLY GOING TO MISS GUATEMALA

I was born in the US both my mom and dad are from Guatemala so in 1986 we came to live to Guatemala, now that im older and the economy has really been critical I have decided to go back to the United States (I have no Job...if you can recommend me something :) ). But the thing is that I haven't left my country because I feel it like mine...and all ready im home sick. Antigua Guatemala is one of several places in Guatemala that I love and it's just magical, if you havent come recently to Antigua Guatemala you should come in december when they light up all the central park as a welcome to all the festivities like Christmas and new year's eve it's a beautiful place to visit. So thank you for all those pretty pictures and those really pretty details that only Antigua Guatemala can give us.

-- Debbie Bennett
Going to Antigua

Hei. I`m going to Guatemala for 3 mounths 20 days from now. I`m glad to see that Antigua is one of the most fantastic places. I cant wait to see everything!! If you guys want to follow me on my trip you can visit my blog: www.andreanu.blogg.no :D Thnx for this amazing site!!
Add a comment