| | |
| --- | --- |
| | New Orleans |



Home : One Article
---
New Orleans -- the city of jazz, of Creole culture, of a relaxed way of life. What an enchanting city. New Orleans is the kind of place that can make all your ambitions disappear, replaced by the desire to just lean back and let the surroundings filter through all of your senses.



French Quarter

The French Quarter, the earliest part of New Orleans, is the area most popular with tourists. The city has an interesting history, having been ruled by the French for many years and by the Spanish for some time as well, lending it a charming architecture and a unique culture. The French Quarter is also home to the infamous Bourbon Street where tourists are known to indulge in a variety of sins.









Plantations
In the vicinity of New Orleans are a number of beautiful plantations which have been restored and are open to the public. A couple things I learned about plantations:
A plantation is merely defined as a farm with one crop; plantations are not necessarily opulent. Gone With The Wind-style mansions are extremely rare. 80% of the plantations have modest one- or two-storey houses with plain, functional architecture.
The kitchen is usually in a small house by itself, separate from the main building. This is because the food is cooked over an open fire, which can be dangerous.
Evergreen Plantation and Slave Quarters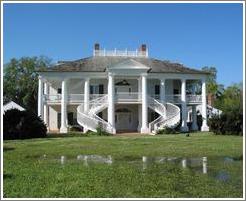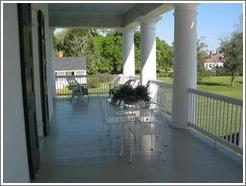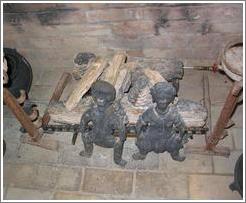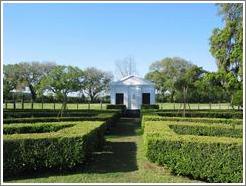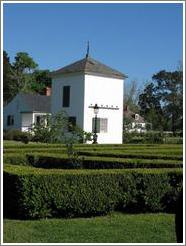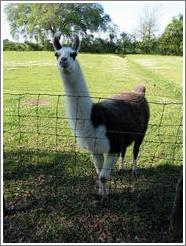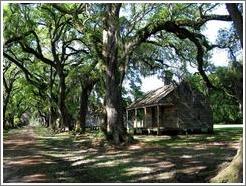 Oak Alley Plantation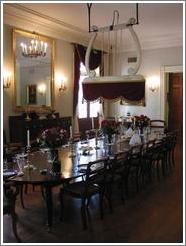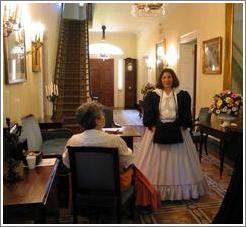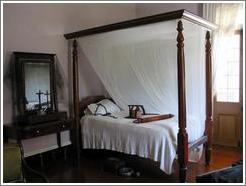 Garden District
This is a beautiful area of the city, accessible by trolley. You can spend hours walking around the residential neighborhood, Audubon Park, and Magazine Street (coffee shops, bars, antiques, art).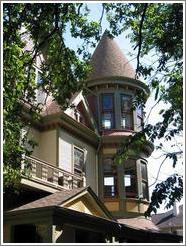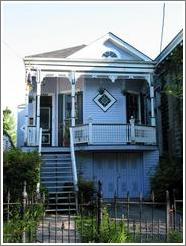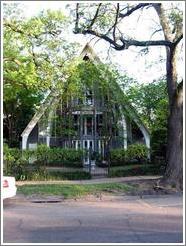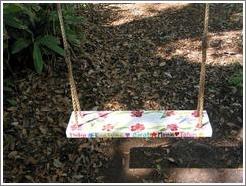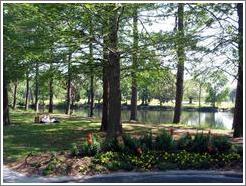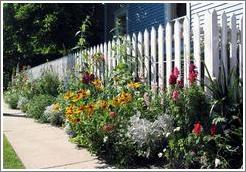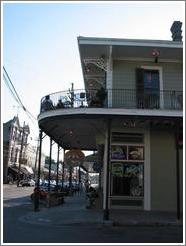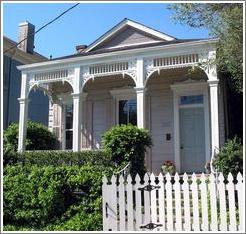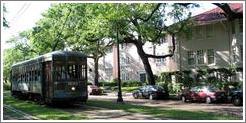 ---
Eve Andersson (eve@eveandersson.com)
---
Comments
good to see it again

I lived in the French Quarter for about 2 years.

It almost made me misty to see it again.

Thank you.

Thomas tomdownes1@yahoo.com thomas.downes@verizon.net

-- Thomas Downes
New Orleans Is Sinking

(Comment title is just a little Canadian in-joke regarding the picture of the swampy front lawn. :-)

Eve, nice pictures. I was in New Orleans back in 2000 but didn't get a chance to see any of the plantations. Some photos from that trip (back in the days of 2 megapixels, when I didn't know about white balance, aperture, or anything).

-- John Russell
New Orleans in Spring

I live 70 miles North of New Orleans in Baton Rouge. It looks like you picked the best time to come down. Everyone should come for Mardi Gras at least once in their life. But the best time is in March and April when the flowers are out and it isn't 95 degrees and 85 percent humidity.

New Orleans has to be one of the worse locations for a major city in the world. It is right at sea level. Because of the levee system, it literally sits in a bowl. The buildings in New Orleans float on mud. Even the tombs are above ground and many of them were filled by the yellow fever.

One little tidbit most folks don't know is that the French Quarter isn't French. Those building burned down long ago. You actually found one of the few that didn't. Most of them are from the 40 years Spain owned Louisiana. Where the French were horrible administrators, the Spanish created order from chaos. The culture was French (and a lot of ways still is), but the church, economy, and a working (but woefully corrupt)government were created by Spain.

Eve, I hope you enjoyed your time in South Louisiana and will come often. I love to check on your website every year or so just to see what exciting things you have been doing.

Robert Bailey

-- Robert Bailey
New Orleans

My first visit to New Orleans was this year. I was very dissapointed, though, with almost every aspect of my experience there. First, only the history of New Orleans would draw me back again. Well, that isn't true, I would go back for the good food and music. The whole place stinks, literally! It smells of rotten beer and food like it does after Mardi Gras in my home town. Also, I would never go to New Orleans during Mardi Gras. I have no motivation to stand around millions of screaming, drunk, high and contagious people to fight for beads or other nonesense. I know many better ways of how to have a good time. Last, the city is incredibly poverty stricken and crime is almost the highest in the U.S. No need for me to follow the heard and drop a lot more money visiting that place again.

-- Jason Ballard
SO MUCH CULTURE

I visited New Orleans for my first time last summer. I loved how a large urban area like New Orleans, could have so much culture and history. As i walked down the street, rode the street car, or rode by the many murals and beautiful buildings, i could feel the energy and culture of the city. I also took a steam boat ride down the mighty mississippi and loved it. I truly enjoyed my trip and hope to go back soon.

-- billy right
Jason

Jason doesn't sound right to me! One thing about New Orleans....you either love it or you don't!! There is no middle point!!! Jason, where DO you like to travel????

-- Marty Reefe
WHAT?!?!?!?

Personally, I have lived in New Orleans since infancy, and I am now 23. New Orleans is an absolutely beautiful city, one whose interesting aspects extend beyond ghettos and the poverty stricken projects. It is a historical city that never ceases to amaze me with its ancient traditions and charm. PLEASE, do not listen to Jason; I guarantee you will have an extremely interesting and fun filled trip. New Orleans is one of the top vacation destinations in the world, and rightly so. Remember, a city is defined not only by its bad aspects(such as poverty and crime), but also by its beauty, its people, and its action packed fun. John Smith

-- Joe Smith
Lovely City

I have visited many places in the US and found New Orleans to be one of the loveliest places I've seen. The people are warm and friendly, the history is enchanting and the food is outstanding. The Garden District is so charming, we spent hours walking the streets looking at the wonderful homes and gardens. Don't miss the opportunity to visit this welcoming city.

-- D F
french quaters

i live in st.bernard,louisiana, so i see it everyday! theres so much of our culture everywhere you go! my family and friends like to go out on burbon to check out the cool stuff you can catch on side of the street! we love to go to the clubs and the restruants! mardi gras has to be the funniest thing in the french quarters! The quaters has got to be the best thing in louisiana!

-- lacey lynne cring
New Orleans, the best City in the USA. I was born and raised in New Orleans, I moved to Los Angeles in 1985 at age 21, I like it here in Los Angeles and I have traveled much, the US has many great cities but I always come home to the best food, people, parties, culture, music and more. I am going down to New Orleans again to see Mom in April, gonna get some Gumbo, PoBoys, Hubigs pies, go drinking in the French Quarter, ride the street car, visit friends and have tons o fun. I always like to go to Biloxi, that is a nice drive, if you go to New Orleans you should take the drive to Biloxi if you have time, it only takes a day to get there and back. I would like to see New Orleans treat its own people much better, I said to one of my friends there that "New Orleans takes the Poor out of Poorboy", I think the people running things know what I mean. Help people help the City! God Bless
Image: french-quarter-courtyard-large.jpg

-- tony kollar
I am from Toronto and visited New Orleans for the sixth time this past March. It is absolutely beautiful. Everytime I go to New Orleans I end up loving it more. The best way to describe New Orleans is that it is a mix of France, Spain and the USA all in one. The food is amazing and nowhere can you eat so well for so little money. The music is as good as the food and the people are real characters. The architecture of the French Quarter is simply outstanding and the Garden District and Faubourg-Marigny is equally beautiful. Bourbon Street is at times a nightmare, but if it gets too tiresome, drop down one block to Royal and you're in a different world. Judging from my past visits, the best time to visit New Orleans would have to be in April or early May. March seems to be touch and go. It could be 80 degrees, or like this year it could be 50 degrees which is a little too cool. Summer is oppressively hot- unbelieveable acutally, and should be avoided. Visit New Orleans and you will absolutely love it, I guarantee it.

-- Janet Everington
Sentimental and Sad

As a child, I spent numerous summers in NO. My aunt and uncle lived on Magazine Street. I can still recall the Mardi Gras and us on the balcony fighting to catch the beads, and back then, they were beautiful beads. You see, that has been over 50 years or more! I have been searching the web to obtain photos of Magazine Street BEFORE the hurricane and flood. I wanted to try to identify their home, as I really feel it is still standing since Magazine St. has obviously become an eclectic place. Then perhaps time has robbed me of the chance to see the area again as I once knew it. I had wanted so deperately to visit NO once more to reminesce and visit old haunts...that is not to be now. I waited too late and I fear NO will never be the same. I am not saying that it can't be wonderful again, I am saying it can't ever be the same. If anyone out there has images of Magazine St. at any time of any year of any content, please forward them to the site. I will always be checking to see if they appear and provide me with one last glimpse of the NO I once knew and loved. NO almost became my home...that brings on another emotional issue...

-- Judy L. Jones
So Sad

I have never been to New Orleans, but I have always wanted to go. New Orleans was always on my top-ten list of cities to visit. I have looked at so many pictures of and information about New Orleans pre-hurricane/flooding, but that's not the same as being there. Even though I have never been there, nor do I know anyone who lives there, I am sooo saddened and deeply affected by what happened to that grand city. My thoughts and prayers are with everyone who was affected by Katrina. New Orleans probably won't be the same, but that doesn't mean it can't be better, and I will someday visit the Crescent City. God Bless N.O.

-- Jeni R
I Love N. O.

A friend and I have visited N. O. at least 3 time and miss N. O. We watched CNN with great sadness and, regretably, we did not have the funds to donate at that time. We will soon, I promise. We found N. O. a place where we could retreat from the work-a-day world we were experiencing. The people we met were friendly and made our stay worthwhile. We pray that the historial site will survive and it's people will return home to rebuild and engenerate the best city in the world.

-- Elaine Garde
my life

new orleans is a very pretty and great city to life in. ever till katrina hit new orleans new orleans was all i knew. before the strom came our way i really did relize how much new orleans ment to me untill i had to leave it behind and people like jason reall tick me off because one of his visits went wrong. right now im 14 years old and i live in north carolina. every day in school i sit in class and try to hold in my tears because it hurt me to my heart that im not back at home. dont get me wrong i do understand that i have been very blessed that i am still here on this earth and that there is other that have less than i but to be back home with my family and friends that are back. to this day i wished that this storm never apporched new orleans because to me there is no other place that i wouls rather be.

-- denesha bowser
I was in New Orleans (french quater) 2 weeks before katrina hit, my first time there and i loved it. I stayed 7 days and couldnt do everything i wanted to! The food, music and people were great. Looking at these pictures made me smile and wonder how things must look like now. New Orleans will rise again! And i will be back.

-- Manny Rebimbas
I LOVE NEW ORLEANS

i've lives in New Orleans all my life. I moved because of the hurricane. It's so nice to see pictures of the french quarter that are so beautiful besides the latest ive seen of how bad it looks when it really doesn't.I visited for christmas and it was the best time ive ever had!!!

-- brittany kimel
I Love New Orleans!

I live up North Louisiana I have Been to New Orleans about five times. No city anywere in United states can bet New Orleans......There is No city that has the food the culture the feeling that you feel when you walk around the city....Its beauty is deep..... and i think people need to go and get a taste of the great city. Dont give up on New Orleans ever! I will be there in two weeks on a short tour that my husbands band is on. I cannot wait....See ya soon New Orleans....Love Ya!

-- Sonya Bratlie
I Love New Orleans

I am a travel agent and I can send people anywhere in the world they want to go. When asked where I would travel if I had my choice, New Orleans is always in my top ten. I have visited that beautiful, historic, sultry, luscious, city twice and would go back in a heart beat. I cried when I saw the devastation wrought by Katrina. I watched in horror at the crowds near the convention center (where I had walked by time and again) I couldn't believe the cruise ships terminals were gone and the before and after pictures of the flooding, just unimaginable. Living in the NW we don't have much of a historic past up here, to be able to walk on cobblestone streets and visit plantation homes is awe inspiring to me. Yes, sometimes the city smells funky (usually about 2 am) but the smell of crawfish etouffe or spicy jambayla wafting from a restaurant on Jackson Square makes you forget about it. Or the sweet taste of powdered beignets and a cafe au lait? How about a Pat O'Brien's Hurricane while you dance to zydeco music until you forget where you are?

I can think of nothing better.

I think Jason should try visiting Rio during Carnival to appreciate New Orleans a little better.

Cheers!!!!

-- Jennifer Brown
Trip To New Orleans

I am a native born Texan and until the end of June, I had never visited Louisiana. I went with my family to look at Louisiana Creole buildings because I would like to build this type of house on the Texas Gulf Coast. I loved Baton Rouge, but I especially loved New Orleans. I loved the Old World feel and walking all over the French Quarter. My family fell in love with the beignets from the Cafe du Monde and we ate them several times while we were there. We also went on the Natchez Paddle Wheeler tour and visited the Aquarium of the Americas. I did have an uneasy feeling when I visited the McDonalds on Canal Street in the early evening to get a coke. I had my kids with me and we got out of there as soon as possible. I think that kind of thing will be taken care of before long. All in all, the entire trip was wonderful and we hope to come back soon. I have a long list of places I want to see that I missed this time. There is no place as wonderful as New Orleans and I hope they are able to rebuild it back better than it was before without losing the integral feel.

-- Donna Fleming
Is it ok to travel to New Orleans

I am planning a weekend trip to New Orleans this August 4-7, 2006. Am I waisting my time and money? Are there sites to see after the hurricane? Can I still enjoy the French Quarter, Bourbon Street, the Garden Distric and gambling? Someone please give my an honest answer. I wish so much to have made a trip to New Orleans before the hurricane. I am the last of all my friends to travel to this destination. I only heard good things about it before the hurricane. What Can I expect now? Also, How long would it take to drive from San Antonio, Texas to New Orleans?

Thanks, from your neighbor to the west Leonard Villase?or

-- Leonard Villasenor
My Home

As I'm typing, I'm crying. I lived in New Orleans East but spent most of my life living on Esplanade. I am a native, a proud native. I will return home to help rebuild, my parents are still there living in a dorm on Xavier's property. My dad works there. Everything we had has been destroyed. I don't know where you stand on the widely believed (political) plan for my beloved home, but I am convinced the economy has chnaged in order to keep certain people out. My last breath will be dedicated to rebuilding my life. I am a writer armed with a vision and broken heart. Your photos are so dear to me. Thank you.

-- Eb C heneau
We Love New Orleans

My husband and I 1st visited New Orleans back in 2001 or so - I was standing up in a wedding for my friend - we decided not just to make it a weekend wedding trip but to make a vacation of it (for about 7 days or so) - (my husband's parents have been vacationing there for years and are completely in love with New Orleans) We didn't immediately fall in love but yet it called us back - and back we came - in June 2005 - right before the hurricane hit....and that second time around we did fall in love - there is nowhere else like it - it's smell, it's architecture, it's culture, it's flavour, is all one of a kind.

We are planning on going back this year (2007) probably in the fall and bringing along a couple of friends - We hope they are or become as enamored as we have become.

I pray for all of the Katrina survivors - my heart goes out to you all - and to your beautiful, unique city.

-- Lauri T.
New Orleans

I lived in New Orleans. It will always be my home and I love it. It is my favorite place in the world and I love being there. New Orleans is a great city and Hurricane Katrina can't stop that. It is the best place in the world!

-- lizzie humphrey
I am from Hamilton, Canada (about an hour outside of Toronto) and I have been to New Orleans two times-once before Katrina and the second time after (Nov. 2006)and I love it more than ever. Before our recent trip to New Orleans, we had a lot of skeptic remarks from friends, family and acquiantances-everybody was wondering what we were gonna do there after the hurricane-but we were determined to see if our favourite vacation spot was still as great as we remembered it, and was it ever!! I have nothing but good things to say about our visit, and can't seem to stop thinking about it-we had a great time, the Quarter is just as beautiful as it ever was, and the locals are great! We talked to a few locals, who told us their sad stories from Katrina, and were in awe of them and their passion for their beautiful city-if they weren't already moved back, they were determined to get back on their feet in the city that they love. I really admired that, and it made me appreciate the beauty of New Orleans even more. For those skeptics, who are unsure about whether to visit or not, I say you are missing out on a beautiful, exciting, one of a kind experience that you can only get in New Orleans. Can't wait to visit again, I am in the process of planning my next visit for this year. Thanks for the great pics and memories!!

-- Dolores Mattina
Yippee!

So pleased to hear all the positive comments on 'Nawlins as I'm leaving San Francisco to move there in September - the Quarter in particular - and I'm now just that more excited about my choice. Eve, I adore the photos you took. I believe you captured the city's essence beautifully.

-- Kimber Conner
New Orleans

I lived in New Orleans for four years and worked in the French Quarter for the most part.I read alot of bad comments about Mardi Gras but my expirences after 4 Mardi Gras is you have to go and see it for yourself.Sure people openly drink and do things that are not considered proper.But thats the party.Never once on Burbon Street did I ever see anything that would make me re consider going back and I worked on Burbon Street for most of those four years.The world is invited to the free party but there is a saying in New Orleans that if no one came the party would still go on.Don't cross New Orleans off your list.Its worth the expirence.

-- kenneth little
N.O. is the Best

I have been to New Orleans twice and am going back at Halloween this year (2012). I have never loved a city so much, there is so much rich history and wonderful people and food. I especially love the energetic atmosphere. My last visit was in July which was so hot and humid I knew that either Spring or Fall would be a better time to go. I missed the Warehouse District last visit and an airboat ride that I will be doing this visit. I have been a lot of places (born in Atlanta, Ga) but New Orleans is a place I could definitely live and be thoroughly happy for the rest of my life.

-- Vicki Maddox
Add a comment