The west part of Paso Robles is the place to visit. Highway 101 is the dividing line. In the east you find easily-accessible but less remarkable wineries right off the highway. In the west, along winding roads, you find incredible wineries with grapes grown on calcareous soil — white soil containing calcium and magnesium, similar to that of the Rhone Valley. This soil, which smells strongly of chalk when wet, adds minerality and imparts complexity to the wine. The soil in the east, in contrast, is sandy.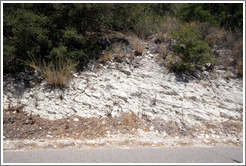 Calcareous Soil in Western Paso Robles
Paso Robles Wineries
Justin Vineyards & Winery
Paso Robles AVA. (Located in Western Paso Robles.) All of Justin's wines are estate wines, grown in Western Paso Robles. They produce excellent, complex single varietals as well as an incredible Cab-Syrah blend called SAVANT. There's a very nice inn on the property called JUST Inn. Out front is a demonstration vineyard showing a few different systems for trellising vines, including Smart Dyson, Scott Henry, Lyre, Vertical Shoot, Sass Branco, Head Trained, Geneva Double Curtain, Double Guyot, and California Sprawl (untrellised).
Carmody McKnight Estate Vineyards
Paso Robles AVA. (Located in Western Paso Robles.) This winery has it all: great wines, wonderful setting, interesting history, and much to teach the visitor. Oh, and olive oil, too. Let's start with the setting: it is enchanting, with hills and ponds and horses. As if the estate weren't already beautiful enough, co-founder Gary Carmody Conway has graced the estate with his colorful paintings depicting winery scenes ("Terroir Paintings"). Mr. Conway is a former actor, and his business partner and wife, Marion McKnight, was Ms. America, 1959. Now let's talk about the wines. All of their wines are estate-grown. Their land, containing calcareous soil and hills with microclimates, is the subject of a study by Cal Poly, to be released soon. By U.S. law, a wine bearing the name of a varietal (e.g., Cabernet Sauvignon) only needs to contain 75% of that varietal. Other varietals may be blended in to provide complexity, roundness, smoothness, color, etc. However, Carmody McKnight's varietally-named wines contain 100% of that varietal, allowing one to taste the true varietal and the impact of the terroir upon it. And the wines do not suffer from the absence of blending; they're good enough to stand on their own. Carmody McKnight also produces a peppery olive oil using four estate-grown Tuscan olive varietals.
Calcareous Vineyard
Paso Robles AVA. (Located in Western Paso Robles.) Calcareous Vineyard, named after the soil on which its grapes are grown, has the best views in the area. From the top of the mountain where the lovely, airy tasting room sits, you can experience breathtaking, unobstructed views in all directions. Driving up the hill to the winery, you see the chalkiness of the soil. Calcareous Vineyards just started producing wines from their own grapes as of the 2006 vintage; everything I tasted was older, with grapes sourced from other Western Paso Robles vineyards. Given the quality of what they can produce with others' grapes, I am eager to one day experience what they produce with their own grapes.
Minassian-Young Vineyards
Paso Robles AVA. (Located in Western Paso Robles.) Many of Minassian-Young's grapes are sourced from other vineyards in the Western Paso Robles area. But not the Zinfandel. These 28-year-old Zinfandel vines are dry-farmed on the estate. David Young, the winemaker, cares for his Zinfandel grapes as if they were his own children. The resulting wine is spicy, intense, and wonderful, with cherry cola flavors and a coffee finish. Minassian-Young's other wines are also quite good.
Eberle Winery
Paso Robles AVA. (Located in Eastern Paso Robles.) Eberle means little boar in German, hence the winery's boar motif. Eberle is a fairly large producer of wine, producing 30,000 cases/year. Some of their grapes come from their 40-acre estate; others are contracted from 19 Paso Robles vineyards. Twenty-six feet below the parking lot lies an extensive cave system (16,000 square feet) created by the owner, Gary Eberle. Despite my stated preference for Western Paso Robles, Eberle does make some very nice wines.
EOS Estate Winery
Paso Robles AVA. (Located in Eastern Paso Robles.) This tasting room was made for huge tour buses of people who just want to drink and not ask questions about the wine. It's big, impersonal, a little bit tacky, and filled with employees who aren't passionate about wine. (Two EOS employees mentioned that they were just doing this job until they found a real job. In contrast, at Calcareous, I spoke with a knowledgeable and experienced employee who had just moved to California from the Midwest specifically to work for Calcareous.) However, you must try EOS's 2005 reserve Petite Sirah, which is smooth, velvety, chocolatey, complex, and truly amazing.