I hate to malign a place that is gracious enough to open its doors to visitors, but I have to say that I enjoyed myself less in Marrakech than in perhaps any other place I've visited. Most streets lack signs, leaving maps virtually useless. I quickly learned not to ask for directions; more often than not, people's directions were incorrect (instead leading to their or their friends' shops), and regardless of correctness, they'd insist on payment for being a "guide". I was met with a stream of invectives when I refused one person's services, and another cornered me in a narrow, labyrinthine street and demanded money. I saw one female tourist approached by two women and decorated with henna against her wishes (with a subsequent demand of payment, of course).

I did meet a few lovely people: the people who worked at the beautiful riad where I stayed were a pleasure to talk with, and a policeman I met spoke so poetically about his admiration for Hemingway. One thing that impressed me about the people of Marrakech is their command of language. It seemed that most spoke both Arabic and French; many also spoke Spanish, English, German, and other languages.
The Medina
The Medina is the ancient part of the city, surrounded by walls. Most of the streets are too narrow to accommodate cars; instead people travel by foot, donkey, horse, scooter, or bicycle. This is the area in which the city's main attractions lie.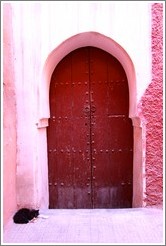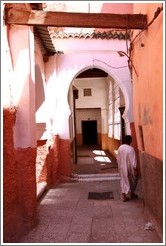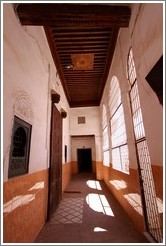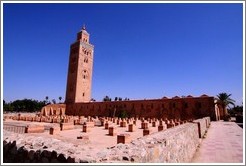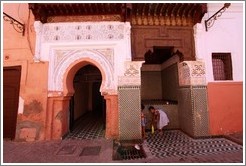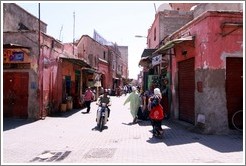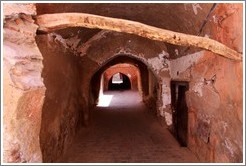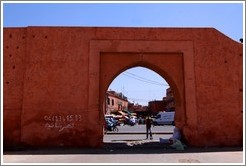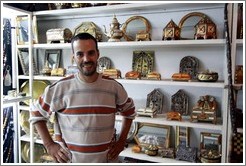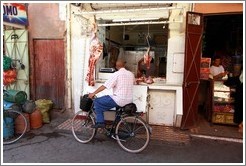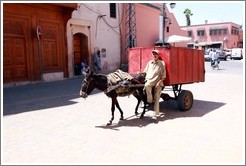 Jemaa el Fna
Jemaa el Fna, also spelled Djemaa el Fna, is a large square in the middle of the Medina, active during the day and even more active at night. Vendors, henna artists, snake charmers (i.e., people who hold up defanged snakes and charge a few dollars for a photo), and other performers abound. One man had a table full of teeth that looked real. Cafés and restaurants surround the square; a few, including Café de France and Café Glacier, have wonderful, 2nd storey terraces on which you can relax and look out over the entire square.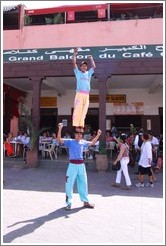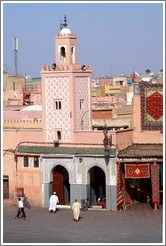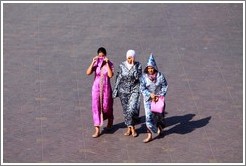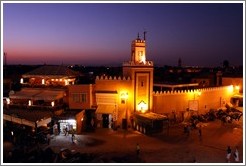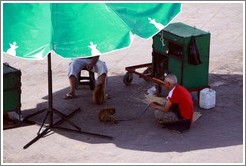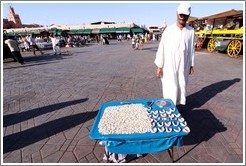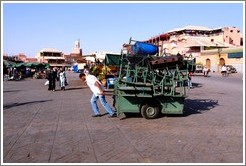 The Souks
The souks are bustling markets; a large one can be found just off Jemaa el Fna. The main stretches contain colorful goods, popular with tourists. Adjacent areas contain butchers and goods more oriented towards local buyers.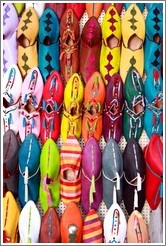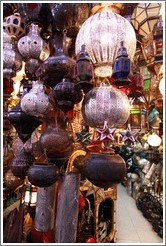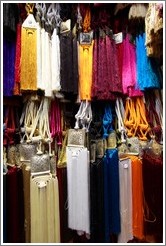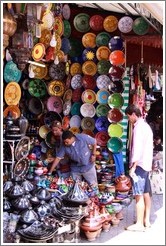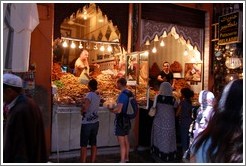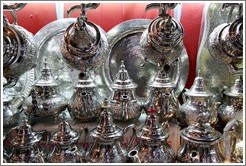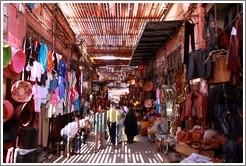 Bahia Palace
This large palace contains many rooms, courtyards, and gardens, and has intricate decoration throughout. Interestingly, while it is embellished with the geometric patterns so common in Islamic architecture, many of the patterns also contain floral elements.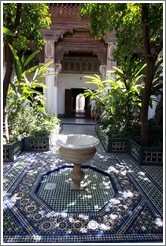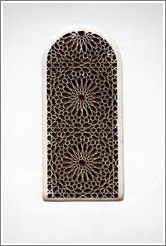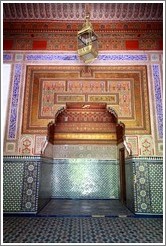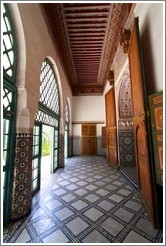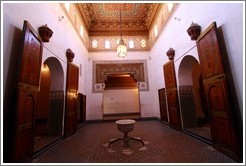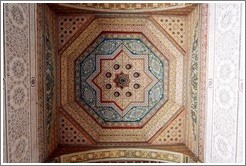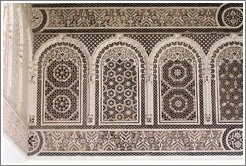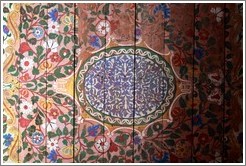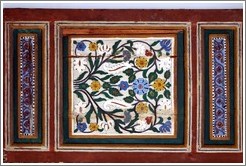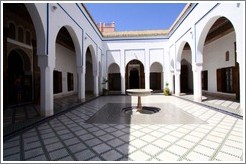 Ben Youssef Medersa
Ben Youssef Medersa was an Islamic school, built in the 14-16th centuries, with a courtyard and chambers for students.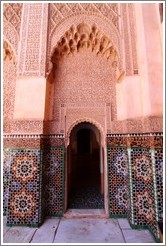 Jardin Majorelle
This botanical garden is quite nice but not particularly Moroccan; it was designed by a Frenchman, Jacques Majorelle. Its structures are painted in vivid colors, especially cobalt blue.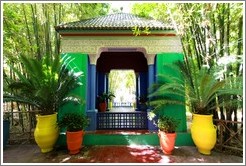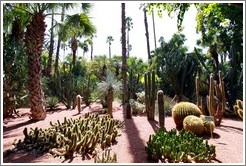 Saadien Tombs
Built in the late 16th century, parts of this royal necropolis look almost palatial.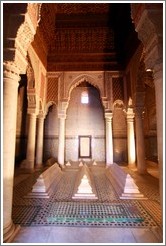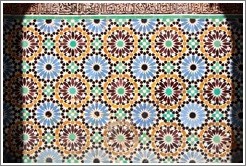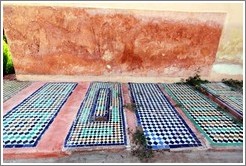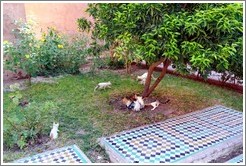 Menara Gardens
The pavilion in this large park was built in the 16th century by the Saadi dynasty; the rest of the park, mostly olive trees, dates back to the 12th century. Views of the Atlas Mountains from this park can be spectacular, so I've heard, but through the hazy sky, I was only able to make out their faint outline.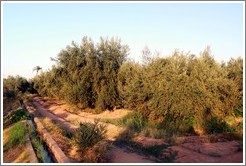 Riad Lorsya
One type of accommodation in Morocco is a riad — a house with a courtyard and internal garden. Riad Lorsya has four rooms, each unique and beautiful.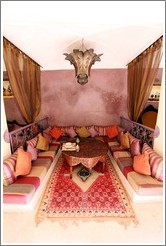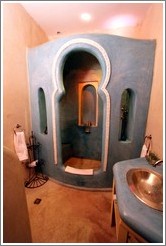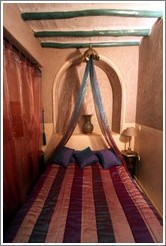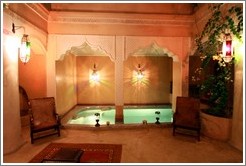 Earth Cafe
Earth Cafe, a vegetarian restaurant in the Medina, has delicious food and a great atmosphere, and they produce their own olive oil. To get there, walk along Rue Riad Zitoun El Kedim from Jemaa el Fna for a few minutes until you see the Earth Cafe sign. (To help you find it, here is what the entrance to Rue Riad Zitoun El Kedim looks like.)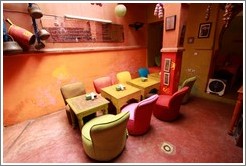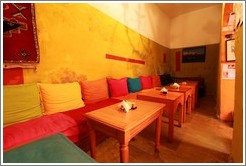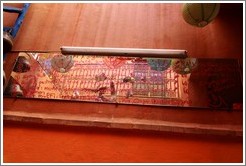 Atlas Mountains
This large mountain range runs across Morocco and a few other North African countries. Until 350 million years ago, the mountains lay beneath the ocean, and fossils still abound. The mountains are dotted with villages populated by indigenous Berber people.