Despite Malte's departure in the morning of the fifth day, we had a splendid last day in Paris.

We began our day at the Arc de Triomphe, built from 1806-1836 (initiated by Napoleon Bonaparte). The Arc in itself was beautiful, with relief sculptures by a number of artists, but I was most impressed by the view from the top. The Arc is in the center of the Place de Charles de Gaulle, formerly called the Place de l'Itoile, which means "Place of the Stars," an appropriate name because all the streets extend radially from the Arc. A geometer's paradise.

Tracy had no greater desire during the entire trip than to take a tour bus and now, finally, she got her chance. Guided tours departed periodically from the Arc, so Jin, Rolf, and I agreed to meet her back there in three hours while we explored the Champs-Ilysies, a street of history and shopping.

We spent many hours that night at a delightful restaurant/jazz club called Bilbouquet, where Tracy and Rolf tried both escargot and intestines. The highlight of the evening (and perhaps of the trip) was a Benny Goodman-inspired band with clarinet (of course), vibraphone, piano, and drums.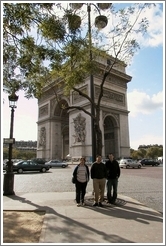 Tracy, Jin, and Rolf in front of the Arc de Triomphe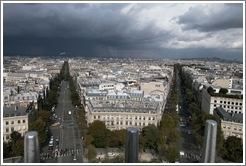 View from the Arc de Triomphe. The streets extend radially and beautifully from the Arc.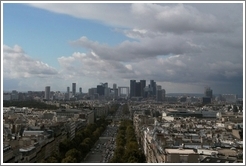 La Defense (from the Arc de Triomphe).