Today we arrived in Paris, la Ville de Lumiere, the City of Lights. City of jazz, of philosophy, of poetry, of history. We promptly went to our hotel room and fell asleep.

But we had to get there, first. We landed at Charles de Gaulle airport, and Eve decided an adventure was in order. I was all for taking a taxi, but this seemed like a good opportunity to learn the ins and outs of the Paris Metro system. So we hopped aboard a likely looking shuttle bus to the train station, checked out some maps, and climbed aboard.

On the train, after some further perusal of our available maps, I had the horrible feeling that we were going exactly the wrong way. Fortunately, we weren't where we thought we were on the map, so it was actually the right way (there is a Charles de Gaulle station, completely apart from the Charles de Gaulle airport). Unfortunately, there are also two Rue de la Gaites in Paris, and we were planning on heading for the one in the middle of nowhere. Fortunately, we were able to figure this out before we actually attempted to get there. Eventually, we made it to a Metro station in the vicinity of our hotel and took to the streets to attempt to locate it.

On leaving the Metro, we were passed by some military types in full camo gear and berets, toting assault rifles (FAMAS rifles, a French bullpup design, available in the US for $6,000). Not something you see in the streets of Boston every day. We wandered by the Montparnasse cemetery (where Napoleon moved all the bodies out of the old cemeteries within the city walls because they were getting crowded), and finally made it to our hotel with the aid of a nice woman who kindly led us several blocks out of her way to its door (who says Parisians are rude?).

After our extended nap, we toured the local area of Montparnasse, which according to the guide book was a "thriving artistic and literary center", right up until World War II when they put up the Tour Montparnasse, a huge skyscraper of an office building, and tore down all the ateliers. It still has lots of character, and many fine establishments to please the discerning connoisseur in search of entertainment. There are movie theaters on every block, and virtually every other building seems to house a creperie. Not too unlike Cambridge. What was different was that every restaurant was shrouded in a thick fog of cigarette smoke. Apparently, there is now a law that all restaurants must provide a non-smoking section, but we have yet to see any such thing.

We then took an evening walk along the Seine before retiring. Our first day in Paris!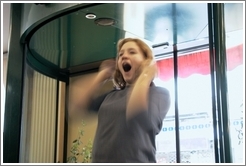 Eve as we arrive at the hotel after a six hour flight, an hour making our way through the Metro system, and a one kilometer walk.


A very French Eve.