Our Lazy Last Day (with underwater pictures)
Saturday, March 27, 1999
part of Jin and Eve's Cancun Adventure!
---
Today was spent in the most archetypal Cancun fashion. We spent it almost entirely on the beach.

After a lazy start and a meal at the Plaza Kukulcan, we got our film from our disposable underwater camera developed while Eve bought some new sandals (Fine West brand, not a typo). Then we headed down the hotel zone and ended up by Club Med, which was very fine indeed. We sat under a straw umbrella in the shade and spent an entire afternoon in various degrees of repose. There were also two young ladies lying out in the European fashion.

It being our last evening, we did something really exciting afterwards! Jin read, Eve slept.

The beautiful beach by Club Med.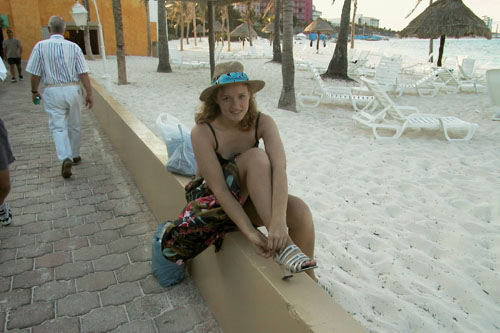 Eve puts on her new sandals.
Although most of the underwater pictures we took were, of course, of fish, they didn't turn out that exciting because the fish's bright colors appeared faded, making them no longer look like the beautiful creatures they were. So here are the non-fish underwater pictures: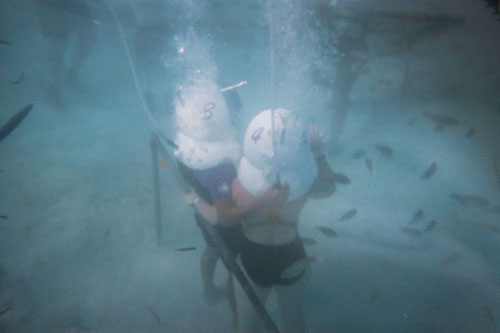 Aliens commune with the fish.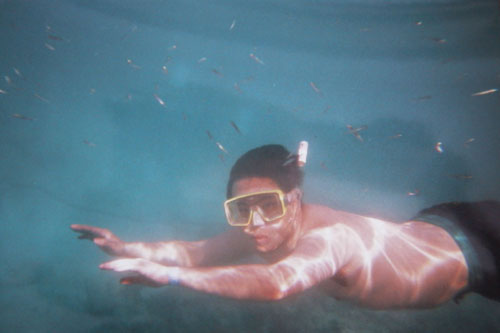 Jin underwater.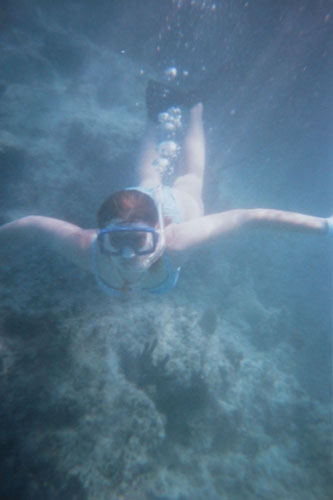 Eve underwater.
---
Feedback is welcome. Text, images, and sounds by Eve Andersson and Jin Choi.