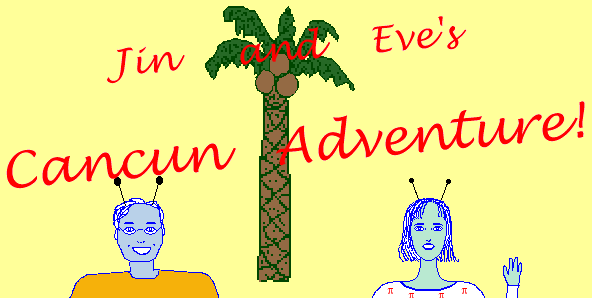 ---
My buddy Jin and I (Eve) are vacationing in sunny Cancun from Sunday, March 21, through Sunday, March 28.

We bought a digital camera (Canon PowerShot Pro70), found an ISP, and now we can keep our friends updated on our adventures as they occur!

Join us as we explore the Chichen Itza Ruins, visit the animal park Xcaret, sample the Cancun nightlife, hang out on the pristine coral beaches, and discover what else awaits us on our first trip to Cancun!

Postscript: We're back in cold Boston now -- what a contrast. As you can see, it was a wonderful trip, and we would highly recommend Cancun to anyone. Also, we strongly recommend the Canon PowerShot Pro70 digital camera which was easy and fun to use and at the same time very versatile and powerful.

April 8 update: We have a winner! Jay Peng from Rutgers has figured out what exactly this is: it's a Mayan calendar representation of the next Pi Day, March 14, 2000. How did he figure this out? He deciphered the Glyphs using www.halfmoon.org, and then did some math to come up with the correct date. I am impressed! He wins 250 pesos (about $25) because that's how much Mexican money I found in my pockets when unpacking.
---
Feedback is welcome. Text, images, and sounds by Eve Andersson and Jin Choi.